Vår Energi's Senior Engineer for Piping and Valves, Principal and Lead Kurt Mikkelsen in Conversation with IZOMAX Principal Engineer Kjetil Aamodt on where it all began. Written by: Cecilie Torvund (Global Account Manager)
All businesses are built upon a good idea, and many are born out of a solution to a problem. The story of Izomax is no different. In December 2016, Kurt Mikkelsen, Senior Engineer Piping and Valves at ENI (Now Vår Energi) was visiting our headquarters in Forus, Stavanger (Norway) to evaluate a hot tapping solution on a hydrocarbon carrying pipe inlet to a heater on both sides at the Goliat field outside Hammerfest. The objective was to clean out the plugged heater with minimum welding and without shutting down the production.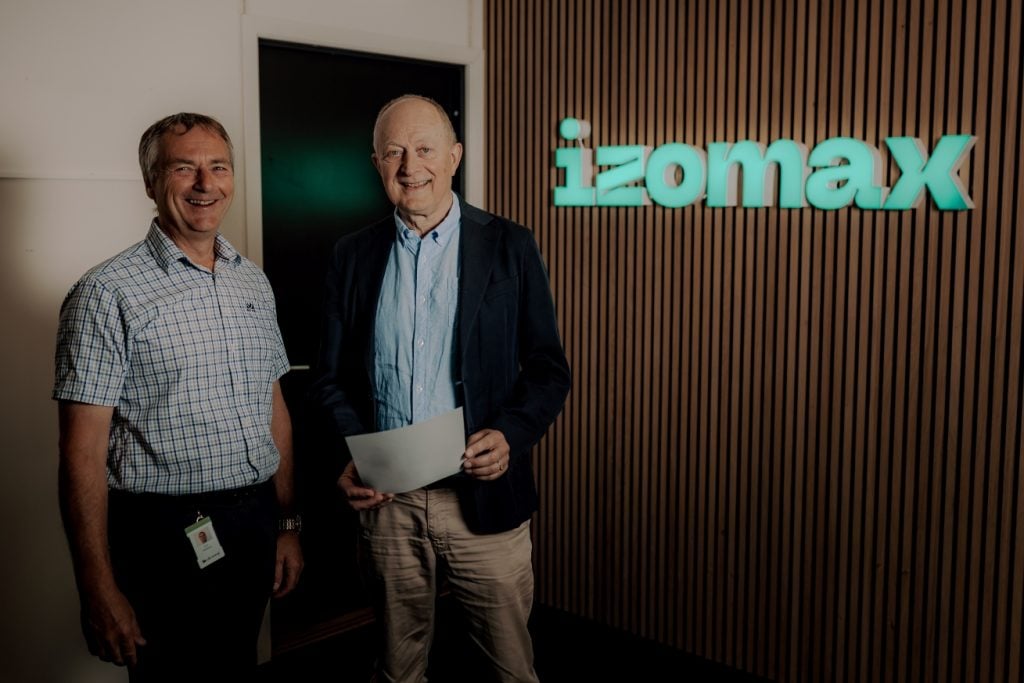 Kurt Mikkelsen (Left) with Kjetil Aamodt
Here he met with Kjetil Aamodt, Principal Engineer at Izomax. Kurt recalls asking Kjetil "Don't you have a solution where we can separate the flange pair and insert a blind spade on a live system without hot work". "Of course!" was the immediate response from Kjetil. ''Madman'' laughs Kurt.
They sat down together and looked at drawings where Kjetil explained his idea of the 'Add On Gate Valve' (AOGV) – an alternative to hot tapping. Kurt understood immediately what the idea was about, and he was also convinced that this was the solution to his problem.
Heater inlet setups are designed not to have valves. "It's not enough with a valve, but we have to have a physical positive isolation blind if you're going to do maintenance inside any vessel, drum or confined space on live system'' explains Kurt. "The problem was that the AOGV technology was not ready, and we needed a solution in place by May – only four months away."
Normally, it takes a minimum of a year to do a pilot test. However, in this instance, there was no time for applications, approvals and funding plans if it was to be in place in less than four months.
Kurt brought together everyone involved in safety and operations onshore and offshore to discuss possible risks and possible showstoppers. "We couldn't find any reason not to use the solution and we called in Izomax for the final stress test. When we still couldn't find any reason not to go ahead, we got started!"
What started as an idea scribbled on a newspaper by Kjetil during his holiday, went on to be the design phase of the first AOGV which then went into production not long after. Procedures were written and reviewed together with ENI. The equipment was stress tested and DNV certified in full scale at our workshop before the mobilisation could be approved. The operation itself was managed from Hammerfest. "Those offshore were impressed with how the AOGV technicians went about their business in such a professional manner, and how they showed and explained the job. Not least, they were amazed with the tool, which was a success and solved the problem. Everyone in my team knows what the AOGV is about" says Kurt.
''The best comment I have received is from the R&D manager of another large operator who was jealous that he had not been the first to adopt the technology'' He concludes.
We at Izomax would like to thank Kurt for his unwavering belief in our people, our technology, and our skills to execute this perfectly. Izomax would not be where it is today without his courage to challenge the status-quo in a conservative industry.
Since this first project, Izomax has already gone on to complete over 130 isolations worldwide. If you want more information about the AOGV, please speak to Cecilie Torvund cecilie@izomax.com